It has definitely been awhile since I have posted something. I think that am doing pretty good if I have to post once a month. Here are the school professional development opportunities that I posted on the Knowledge Quest (KQ) blog for next month: You Are the Expert! February 2016 Professional Development Opportunities | Knowledge Quest.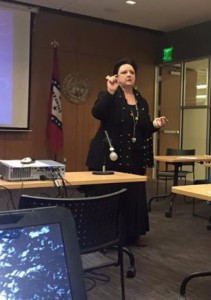 Last month, in an auditorium in Little Rock, Arkansas, I listened to Dr. Julie Todaro welcome enthusiastic University of North Texas graduates to librarianship. Going into the event, I was excited that our ELMS (Educating Librarians in the Middle South) cohort would have the opportunity to meet such an esteemed guest. Not only is Dr. Todaro an agent of change seasoned in working with most facets of libraries, but as you probably know, she is also our incoming ALA president.
As I listened to Dr. Todaro's speech, I wished that I had been able to record it. I think that you would have thoroughly enjoyed it. There were so many points in the speech that emphasized why our job is crucial, and sometimes it helps to hear it from someone else. All is not lost, however, for I have a few notes to share with you.
As Dr. Todaro spoke, she reminded the audience that librarianship is characterized as a supporting profession. Yet, librarians also provide valuable, critical services and need to assume leadership roles, as well as take the initiative to identify what those roles entail. Given our impact upon society, we should always endeavor to know what is trending out there, and part of knowing that is understanding where to get information.
That part of her speech was what I absolutely loved, for it is something that many of us forget. In Dr. Todaro's words, "You are the expert in the room. From Day 1 in graduate school, you began to build your portfolio of expertise. Now, you need to let others know. Credential yourself. Position yourself. Be proactive about what you offer, what you are there for, and how you can help. Explain how you make a difference."
I hope that you find this advice to be as reinvigorating as I did. Do you know what's trending out there right now? How will you show your community that you're an expert? To get started, here are some professional development opportunities for February 2016. As always, please contact me if you have suggestions for a professional development opportunity.
---
Title: STEM, STEAM, and STREAM… What Do They Have in Common? Science, Technology, Engineering and Mathematics
Title: Social Media and Volunteer Engagement
Title: Enhancing Your Library's Web Presence with WordPress
Title: Innovation with Gamification Level Up Your Learning!
Title: Earning Respect from Administrators
Title: Developing a Leadership Culture
Title: Awesome Apps for Education from Google
Title: Easy Book Report Alternatives
Title: Using Technology to Engage the Reluctant Reader
Title: Curation, Revisited: Aggregating Resources in 2016
Title: Tips and Tricks for Using Microsoft Office for Mac and iOS
Title: Digital Storytelling on ANY Device with Sway
Title: Visible Thinking Routines and Primary Sources
Title: Male Call: Bringing Boys to Books and Writing
Title: Flipping Your Classroom Using Free Resources
Title: Easy Book Report Alternatives
Title: Flipping Your Classroom Using Free Resources
Title: Clear and to the Point: The Importance of Using Plain Language in Your Communications